Boris Johnson's wife Carrie, along with their one-year-old son Wilfred were spotted playing on the beach with the US first lady. Dr Jill Biden is accompanying her husband for the G7 visit.
After having a fun time at the beach, both the ladies were seen with their husbands for a walkabout on the eve of a G7 summit.
Both the couples admired the serene view. "I told the Prime Minister that we have something in common - we both married way above our stature," Biden told Johnson jokingly. The UK prime minister agreed and said, "I'm not going to dissent from that one. I'm not doing to disagree with the President there, or indeed on anything else."
Also Read | UK's Johnson hails Biden as 'a big breath of fresh air'
The two leaders met at the English seaside resort of Carbis bay. Biden declared, "I've been to this great country many times, but this is my first time as President of the United States."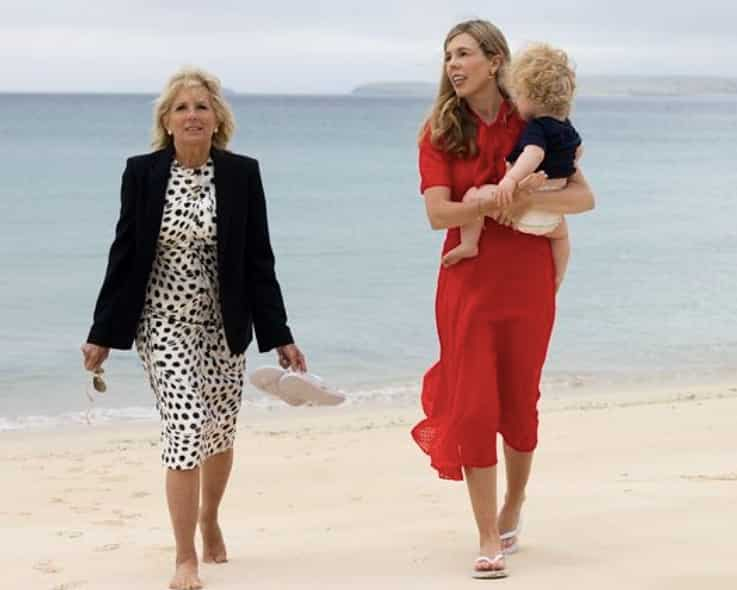 Image Source: Twitter
Johnson hailed the US President as "a big breath of fresh air" because he wanted to work with London on a huge range of issues including climate change and COVID to security.
Johnson said, "It's a big breath of fresh air. It's new, it's interesting and we're working very hard together. We went on for about an hour and 20 or so. It was a long, long, good session. We covered a huge range of subjects".
Johnson played out differences with Washington on the impact of Brexit on the peace in Northern Ireland as he said that the US, UK, and European Union had "complete harmony" on finding solutions to uphold the 1998 peace deal. "There's complete harmony on the need to keep going, find solutions, and make sure we uphold the Belfast Good Friday Agreement", Johnson added.