Ove 2500 people have signed an online petition on Monday demanding the removal of a statue of Robert Clive, who played a key role in establishing Britain's colonial domination over India, in Shrewsbury, western England.
Critics say the town's former MP and mayor should not be celebrated in such a way due to his part in establishing British colonial control of India and large parts of south east Asia through his role in the East India Company.
Also see: Churchill, slave trader Edward Colston's statues vandalised amid protests in UK
The petition on Change.Org is addressed to the local Shropshire County Council and came within hours of dramatic scenes of a former slave trader Edward Colston's sculpture being pulled down and dragged into a river in Bristol on Sunday, during a weekend of fiery "Black Lives Matter" anti-racism protests.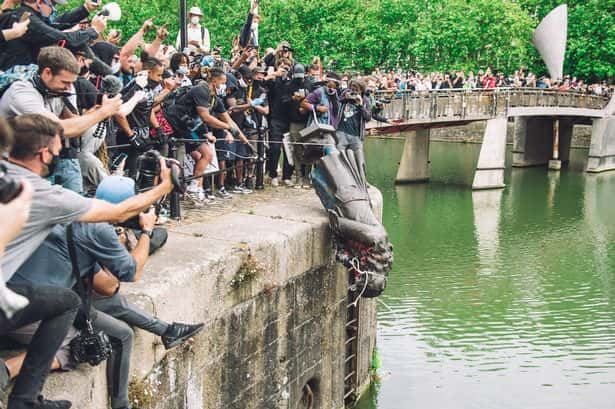 Black Lives Matter protest in Bristol
"Robert Clive was one of the early figures of the British imperial domination of India, Bengal and much of South-East Asia," reads the petition, which has already attracted over 1,700 people of its 2,500 target within hours.


Robert Clive's portrait
Clive served as the first Governor of Bengal Presidency under the East India Company in the 18th century, earning the title 'Clive of India'.
The petition highlights his role in the "looting" of Bengal in the early years of the British Empire, with many of the region's riches finding their way back with him to Britain.
"To have a statue commemorating the man that ruined a nation and held innocent people to his barbaric orders is both offensive and embarrassing. Just because a figure is historical, that doesn't make him good. He is nothing more than a figure of oppression and white supremacy that has, whether consciously or not, been celebrated and commemorated in Shrewsbury town centre for hundreds of years," it notes.
Shrewsbury MP Daniel Kawczynski called for peaceful discussion on the town's Clive of India statue after calls were made for it to be hauled down.