Samsung Galaxy M21 review: The best Samsung smartphone under Rs 15,000
Story highlights
In a world of Galaxy S20s, this sure does feel refreshing.
Samsung has been on a blitz of sorts in 2020. For many months now Xiaomi and Realme have dominated the budget segment (under Rs 15,000) in the smartphone industry. Samsung is hell-bent on changing that with the recently launched Galaxy M21. It's a phone that borrows design cues from its predecessor Galaxy M20 and its immediate successors Galaxy M30s/M31, at an economical price of Rs 12,999.
The Galaxy M21 is a smartphone that offers a massive 6,000mAh battery, an AMOLED screen, decent RAM and storage options, a 48-megapixel rear camera and weighs just 164 grams.
While the M21 borrows a lot from other Samsung M-series smartphones, does it have what it takes to stand on its own two feet? Read on to find out.
Design and Display: Plain old boring
Thanks to the polycarbonate body of the Galaxy M21 that covers the entire back and chassis, the smartphone is extremely lightweight. Though this doesn't feel premium at all. The plastic body lends to its durability. The smartphone is very ergonomically designed and it is a treat to use in one's hand.
Thanks to the glossy nature of the plastic, the phone is very susceptible to fingerprints. If you choose to use the Galaxy M21 without a case then be prepared to be constantly wiping the back of the smartphone to make it look new and shiny.


The Galaxy M21 comes with a volume rocker and power button on the right, the SIM card slot on the back and the USB-Type C (thank you Samsung) port, 3.5mm headphone jack and speaker grille on the bottom. On the back is a capacitive fingerprint scanner.
There's also no camera bump on the Galaxy M21. In a world of Galaxy S20s, this sure does feel refreshing. On the whole, the Galaxy M21 is dull and monotonous. It definitely won't stand out next to an array of competitors in any mobile phone shop.
The display, on the other hand, is the standout feature (other than the battery) of the Galaxy M21. Samsung's displays have always been its strong point and that doesn't change with the M21. You get a 6.4-inch, full HD+ AMOLED (1440x2400 resolution) display with Gorilla Glass 3 protection. It's got punchy colours and gets bright enough to be used while out and about on a walk. Furthermore, it's got good viewing angles and is Widevine L1 certified which means that it'll be a pleasure consuming media from OTT platforms such as Amazon Prime and Netflix.
It may not have a 90Hz high-refresh-rate display but that isn't something that has trickled down into the budget segment yet.
Performance and Software: Advantage over Realme and Xiaomi
Sadly though, performance is one area where the Galaxy M21 falters. The Exynos 9611 (coupled with 4GB/6GB of RAM) that powers the smartphone isn't snappy and lags quite a bit when trying to multitask.
It'll handle everyday tasks without a problem but when you try to open multiple tabs in Google Chrome while using the camera and listening to some audio, it sure will stutter along. The smartphone also tends to heat up slightly when taking a lot of photos of recording long videos.
Playing games like PUBG, Need For Speed, and others will not work on their highest settings. You'll have to reduce the in-game graphics so that you can play the games without any lag.


Samsung's One UI 2.0 is by far the standout Android skin amongst all the budget players, especially Realme's Reamle UI and Xiaomi's MIUI. The software is feature-rich and you get consistency across all Samsung smartphones. It's got a native dark theme that pairs well with the AMOLED screen.
The mono speaker on the smartphone is loud. At loud volumes though, it isn't as clear and you can hear a little bit off crackling. The earpiece quality is pretty good.
Battery life: Most excellent
The Galaxy M21 comes with a huge 6,000mAh battery that doesn't weigh down the smartphone at all. The smartphone lasts almost two days with a good 5-hour plus screen-on-time. The one downside is that the Galaxy M21 takes over two and a half hours to charge from 0 per cent -100 per cent.
The long charge times are negated by the fact that the smartphone can last really long on a single charge.
The Galaxy M21 has a triple-camera setup at the back. It has a 48-megapixel main sensor, an 8-megapixel ultra-wide-angle lens (123* field of view) and a 5-megapixel depth sensor. On the front is a 20-megapixel sensor for all those selfies one takes on a daily basis.
Over the last few months, Samsung's budget range of smartphones has gotten better and better in the camera department.
The 48-megapixel main sensor on the Galaxy M21 is excellent. With sufficient lighting, the pixel-binned photos came out great. The colours were vibrant and crisp. The close-ups also offered good depth-of-field. Taking some landscapes and you'll be impressed with the dynamic range as well. Now it isn't without its faults.
The ultra-wide sensor comes with a fixed focus and that's a huge disappointment. Furthermore, a lot of noise is there and some details are lost.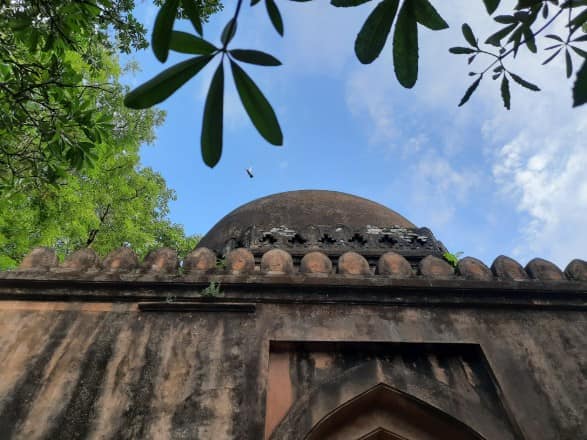 The depth-sensor takes fairly decent shots but some of the in-focus items are sometimes slightly blurred and that's a disappointment.
The 48-megapixel shots have some major issues. First, the colours looked weaker/faded and if you look at the pixel-binned photos and the 48-megapixel shots side-by-side, you'll notice a huge colour temperature difference.
Finally, I'll end on a positive note. Disable all the beautification features (trust me, you don't want any of them) and you'll get good, crisp selfies, that you can share on social media and spam all of your friends on WhatsApp.


On the video front, you only get the main sensor to shoot from. Samsung, for whatever reason, doesn't allow you to shoot with the ultra-wide sensor. Maybe this is where they are cutting corners. Nonetheless, videos come out decently good on auto mode with the anti-shake mode turned off. Turn on the super-steady mode and the videos look washed out.
Verdict: Is this a worthy budget smartphone in today's market?
Compared to Samsung's own Galaxy M31, I'd say this isn't as good a deal. The Galaxy M31 has a better design - albeit slightly - and better low-light performance. Significantly, it has more RAM (the Galaxy M31 starts at 6GB and there is an 8GB variant as well) than the Galaxy M21's measly 4GB.
Still, there is a lot going for the Galaxy M21. It's got a great AMOLED display with HD streaming support, a massive 6,000mAh battery (on par with the M31) and fast biometric unlock - whether with face unlock or with the capacitive fingerprint sensor. It's a worthy smartphone in today's market.
At Rs 12,999, one feels that Samsung could have gone a little more aggressively and it a thousand rupees cheaper. That would have definitely given it the edge against the Realme 6 that at just Rs 13,999 offers a faster CPU, a fluid display and faster-wired charging. Xiaomi's Redmi Note 9 Pro also starts at Rs 13,999 and offers great performance albeit with crippled software experience.
Both the Realme 6 and Redmi Note 9 Pro offer better gaming performance than Samsung's Galaxy M21.
For those that have brand loyalty, or can't get a Realme/Xiaomi where they are because of lockdown rules, the Galaxy M21 will do them just fine. If you can stretch your budget to the Galaxy M31, I'd recommend getting that instead but it is a hefty Rs 3,000 more though.