Badminton World Championship medallist and one of the top Indian shuttlers, Sai Praneeth, in an exclusive interview with WION's Sports Editor, Digvijay Singh Deo, opened up on life in lockdown, SOPs by Sports Authority of India for the resumption of training, social distancing in badminton, Tokyo Olympics and much more.
DSD: Good to see you hale and hearty sai, the roadblocks are gradually being lifted and for any sportsperson that must be a huge relief...
Sai Praneeth: I have been keeping well. Since I returned from the All England Championship in mid-March, I have not been outdoors to train. I have tried to make do with the resources I have at home, but that is obviously not enough for us athletes, so really looking forward to getting back to proper training.
DSD: How has this period been for you Sai, for someone who has a jet-setting lifestyle has there been some reflection...
Sai Praneeth: My schedule has been extremely busy for the last one and a half years, so this break has given me a chance to spend some quality time with my wife and parents. I don't think I'll get another break like this during my professional career. However, it's been two and a half months now and I hope to return to the court soon. Although we still have to be very cautious. Travel is a huge concern and if the BWF tour resumes, the federation must ensure that players feel safe while going to other countries. I hope a vaccine is developed soon and we can return to somewhat of a normal life.
DSD: India is slowly opening up but the cases continue to rise, are you facing a dilemma about returning to training?
Sai Praneeth: It is definitely going to be a challenge. The only thing we can do is be extremely vigilant and cautious while being outdoors. Life isn't going to be the same till a vaccine is developed and we have to figure out a way in which we can safely return to training till that happens. We need to open things up slowly and ensure we follow the health protocols put out by the government.
DSD: Have you gone through the SOPs released by SAI yesterday…badminton is allowed to get underway but mostly outdoor, with only singles players playing indoors. What do you make of those guidelines?
Sai Praneeth: I'm not sure if outdoor training will be possible at the moment. Even while training indoors, we will have to be very careful as we're not sure what effect the air conditioner has on the spread of the virus. Apart from the sports authority of India, I hope the BWF also comes out with a statement soon and offers some clarity on the calendar.
DSD: Have you heard anything from national coach Pullela Gopichand on when the training can resume in Hyderabad?
Sai Praneeth: The central government has given the go-ahead to training, but right now the Telangana government has not opened up sports complexes. The state lockdown will continue till May 31, and then I think we will be able to get back to practice sometime during the first week of June. We have been in touch with Gopichand sir and he said he will take a call at the end of this lockdown period when stadiums and sports complexes are likely to be opened up.
DSD: Now the SOPs put the onus on the sportsperson Sai, of ensuring there is no contact between each other, also of being careful while being in gyms etc. Lets be honest to each other, is all of this possible in elite sport...
Sai Praneeth: It will certainly be very tough for us. Badminton is an individual sport, but players cannot practice in isolation. We need to interact with our trainers, physical coaches and of course play with our partners. Every player doesn't have a personal coach, so training sessions will have to be planned in a certain manner to ensure that we follow the safety protocols. For a proper training session to take place, the entire support staff needs to be present on the court. There is no doubt that the onus is on the players to be cautious but I'm not sure what options we have.
DSD: I have been to your practice sessions in Hyderabad and one important aspect of the success of Indian badminton has been the camaraderie between players and how each has pushed the other. Now if you aren't going to interact with your fellow players then will it be enjoyable training sessions...
Sai Praneeth: As I said earlier, it will be next to impossible to train without a considerable number of people on the court. Sometimes we train in a 'one vs three' situation which improves the sharpness in our game. Isolated training sessions might be enough for us to maintain our game, but it will not be enough to take our skills to the next level.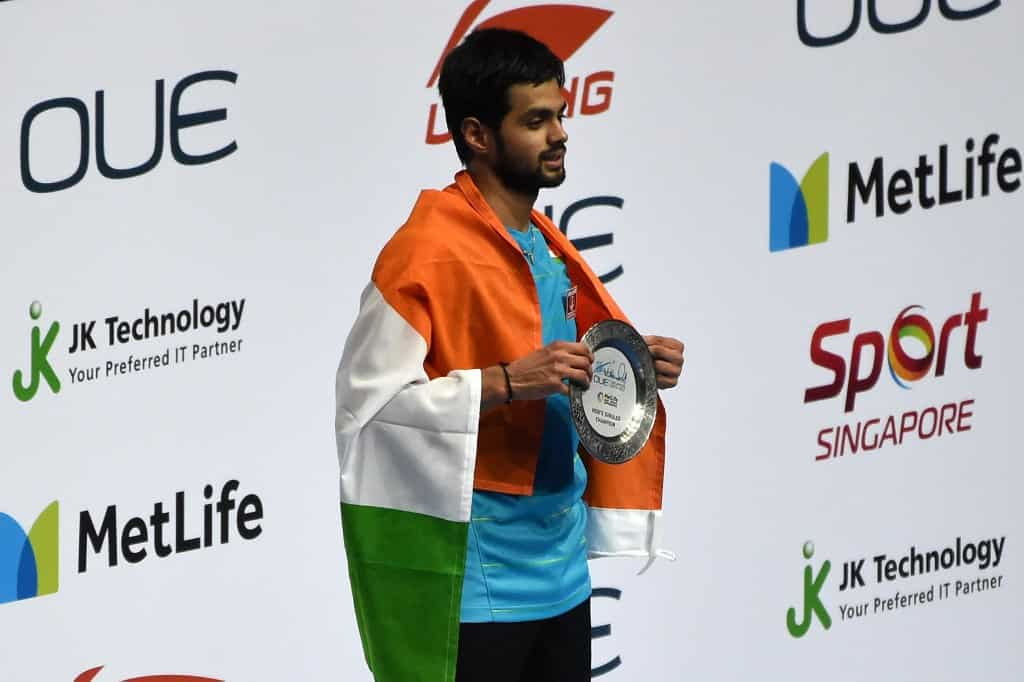 DSD: Do you see skill levels going down considerably because of the lack of training and practice...
Sai Praneeth: I think we will get enough time to get back into the groove of things before the BWF calendar resumes, so there shouldn't be a substantial drop in the quality of play. I think we will need about 2-3 weeks to get back our fitness and endurance levels and about one month to get back in touch with our game. The good thing about this break is that players can recover from their injuries. The BWF calendar is so packed that players don't too often get the chance to fully get back in shape.
DSD: Let us look at the fitness part of it, basic sessions have been going on online but it's been two months without action on the courts. Badminton needs extreme levels of fitness and a lot of explosive power. That's going to lead to injuries as well. How long will it take for you to return to those peak fitness levels?
Sai Praneeth: the first step towards rebuilding your fitness is regaining strength. If we start playing without properly strengthening our muscles, then the chances of getting injured are high. The first 2-3 weeks, I will be focussing on getting that strength back. Then we can start building our endurance levels and finally return to proper full-fledged on-court training. I don't think it will take that much time for us to find our touch again, because we have been playing the game for a long time. Once we start playing our strokes again, the muscle memory will kick in. Every player has a different process. After a couple of weeks of training, the players' bodies will start responding to the workouts and based on that, the subsequent planning can be done. I believe I will take about two or two and a half months to reach peak fitness levels.
DSD: With the Olympics pushed back by a year now and with the qualifying period frozen would you prefer to not play internationally this year if the season resumes...
Sai Praneeth: As of now there is no clarity on the Olympic qualification process, so it is difficult to take a call. The BWF might conduct the Olympic qualifying tournaments separately, independent of the world rankings. There is also a world championship next year, for which we need to retain our ranking to qualify. So, the BWF needs to come out with the qualifications process that will be followed for the Olympics for me to make a concrete decision.
DSD: Will players like you and others want to play in China this year, given with what has happened in the country, there are bound to be reservations about travelling...
Sai Praneeth: Yes, definitely. In fact, I would say I would be worried about travelling to any country. The risk of contracting the infection at the airports is high, so we need to be extra careful if travel is opened up. I don't see this concern going away till a vaccine is developed, till then that anxiety will always be there.
DSD: Have you had conversations within your group about the possibility of having an international circuit if a vaccine is not found. Would you take that risk Sai?
Sai Praneeth: The situation is changing on a daily basis. I don't think we know what things will look like 2-3 months from now, so there's no point overthinking our schedule. Of course, till a vaccine is found, we will be extremely tense while travelling and we will have to be very selective in the tournaments we play if the tour resumes. Other than that, all we can do is hope for the best and pray that circumstances improve. All players in the world are in the same boat, the majority of the world is on lockdown and we are dealing with an unprecedented crisis.
DSD: You have a huge advantage when it comes to qualifying for the Olympics..how does your process now change with the postponement?
Sai Praneeth: If we just talk about the Olympics, I might skip a few tournaments because my position is reasonably secure. I will look to participate in the India Open and then travel for a few tournaments leading up to the Olympics next year. If I get selected for the Olympics, then I do have a considerable amount of time for the event, which will allow me to skip tournaments. But I also have to look at other tournaments which will affect my ranking.
DSD: Till about March this year, you were preparing for the Olympics that was just 4 months away, how do you now mentally refocus for the postponed games which are 14 months away?
Sai Praneeth: Till the BWF does not release the qualification calendar, it is difficult for me to mentally prepare for the games. There is still a lot of time for the event and I can only concentrate fully on the Olympics once my place at the event is 100% secure. The long-term goal is to play at the Tokyo Olympics next year, but there are other small-term goals that I might set for myself.