PM Modi presents unique gifts to world leaders during his ongoing visit to US
NEW DELHI
Updated: Sep 24, 2021, 03:19 PM IST
Story highlights
During his ongoing visit to the US, Indian Prime Minister Narendra Modi met US Vice President Kamala Harris, Australian and Japanese counterparts, Scott Morrison and Yoshihide Suga as he presented them with unique gifts. Scroll below for images
During his ongoing visit to the US, Indian Prime Minister Narendra Modi met US Vice President Kamala Harris, Australian PM Scott Morrison and Japanese Prime Minister Yoshihide Suga. As a special gesture, the PM Modi gave gifts to all of them.
He presented US Vice President Kamala Harris with a copy of old notifications related to her grandfather, Shri PV Gopalan in a wooden handicraft frame.
Shri PV Gopalan was a senior and respected government official who served in various positions. He also gifted Vice President Harris with a Gulabi Meenakari chess set. The intricate details on each piece on this chess set show that it is remarkably handcrafted. The bright colours reflect the vibrancy of Kashi which is one of the oldest cities in the world.
Prime Minister Modi gifted a silver Gulabi Meenakari ship to his Australian counterpart Scott Morrison. The ship is distinctly handcrafted, reflecting Kashi's dynamism.
To his Japanese counterpart, PM Modi gifted a sandalwood Buddha statue. Buddhism in Japan is practised since the sixth century. Also, it plays a major role in bringing India and Japan together. During his previous visits to Japan, PM Modi had visited Buddhist temples.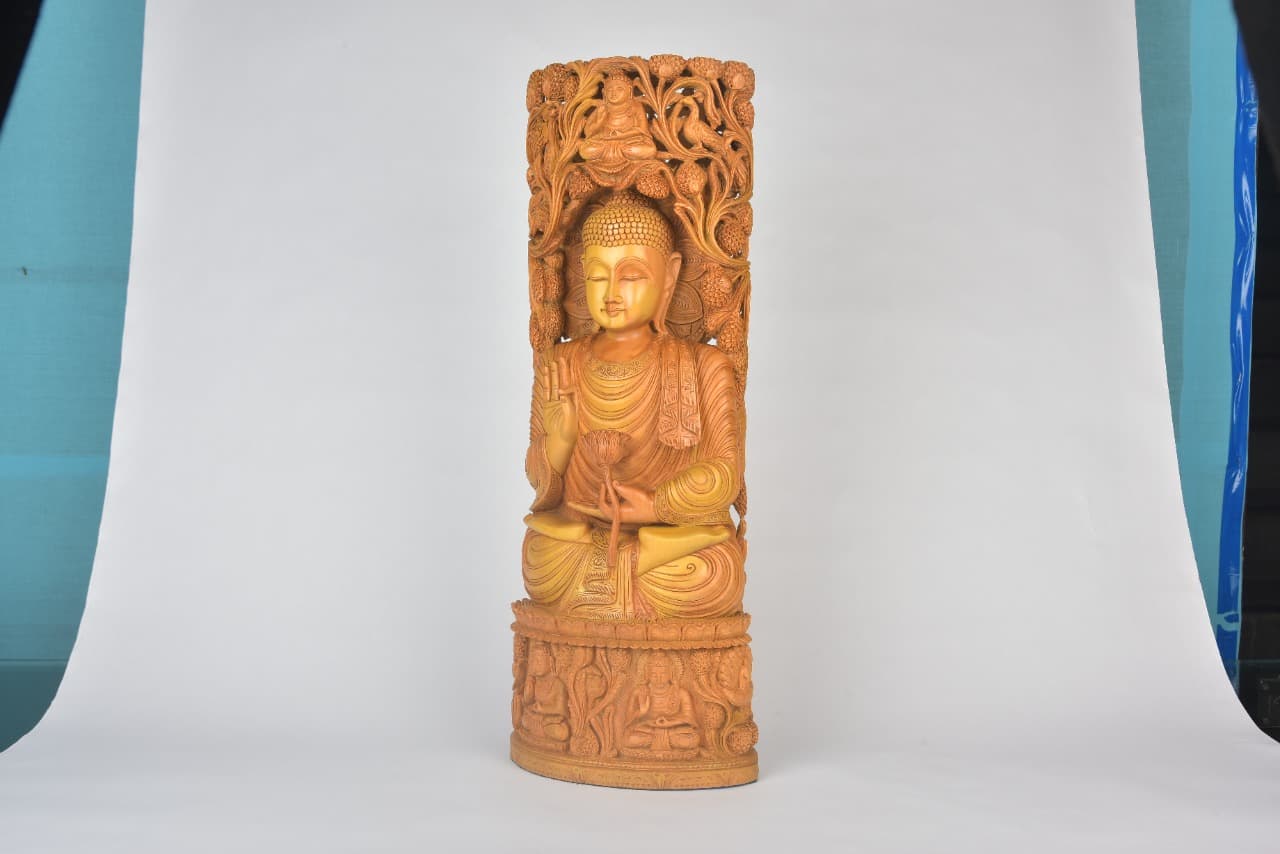 Earlier as well, the PM had performed such gestures during his meetings with the former Prime Minister of Israel Benjamin Netanyahu, Queen Elizabeth, and former President of Iran Hassan Rouhani.
On his trip to Israel, PM Modi presented Netanyahu with replicas of 2 sets of copper plates from Kerala believed to be inscribed in 9-10th century CE.
Also, he presented the British monarch with some award-winning Darjeeling tea from the Makaibari tea estate in West Bengal.
He gifted this along with organic honey from J&K.
For Rouhani, the PM presented specially commissioned reproductions of Mirza Asadullah Khan Ghalib's collection of poetry in Persian, known as the Kulliyat-e-Farsi-e-Ghalib.
On meeting former US President Donald Trump, PM Modi presented a variety of gifts. This included a handcrafted Himachali silver bracelet, tea and honey from Kangra Valley, hand-woven shawls from Jammu and Kashmir.
The collection of gifts also comprised a wooden chest with an intricate inlay pattern.