Even during normal times, there are hardly any direct flights from India to Australia, save for a lone Air India from Delhi. But for the first time ever, Australia's flag carrier Qantas, known widely by its moniker 'Flying Kangaroo' landed in Chennai as a part of the repatriation efforts by the Australian Government. The flight departed for Sydney carrying Australian nationals who were based out of all five Southern Indian states.
Consul General of Australia in Chennai, Ms Susan Grace, said it was "great to see the 'Flying Kangaroo' back in India, and in Chennai for the first time. Aviation links between Australia and India can be a great enabler of stronger trade, investment and people-to-people links in the post-COVID world.
The crew of the Qantas Boeing 787-9 Dreamliner that landed at the Chennai International Airport was led by Captain Lisa Norman who also captained the record-breaking first flight from Perth to London in 2018. After landing on Tuesday, the aircraft departed at 2:55 pm Wednesday carrying 210 Australians to Sydney in what is a direct flight.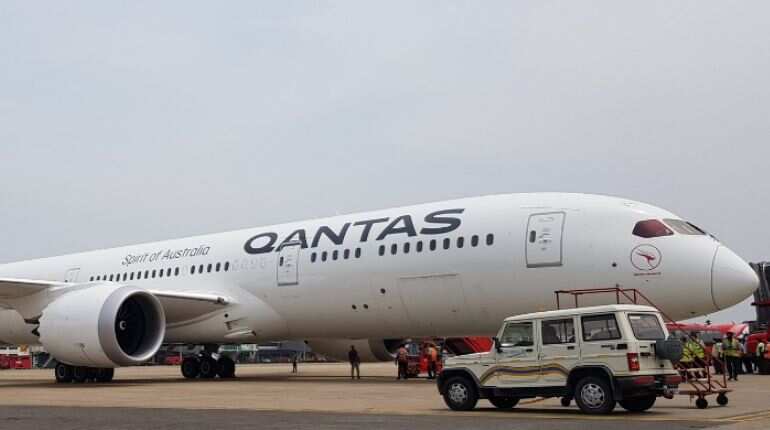 Notably, most flights from India to Australia are operated by carriers who are based out of East Asia and they have a transit at one of the East Asian cities. This flight that departed from Chennai marks the 18th repatriation flight that the Australian government has flown or facilitated to bring their citizens back home.
Thus far, these 18 flights have repatriated 4702 Australian nationals from major Indian cities such as Chennai, Delhi, Kolkata and Mumbai to six cities in Australia.
"This is a special charter by the Australian government and we've never had regular flights to Chennai. Qantas flights connecting Australia and India are very rare and today's is a non-stop flight to Sydney and we had passengers from all five Southern Indian states. We worked closely with the Indian Government and the State Governments to get all movements passes cleared and our citizens stayed at a Chennai hotel on Tuesday, before their departure this afternoon" an Official from the Australian Consulate-General Chennai told WION.